All upcoming Featured and Hot Locations in Marvel Snap
Each new season of Marvel Snap brings a lot of new content for players to enjoy over the course of a month, including new cards, locations, events, cosmetics, and many different rewards to claim. With each new season, we prepare a list of upcoming locations that players may encounter so that they can prepare beforehand.
A new location is added to the Marvel Snap every Wednesday and players have the opportunity to try them out through the Featured Location event, where the new location shows up 40 percent more during games for 48 hours.
The second location-related weekly event is Hot Location, where an existing location shows up 60 percent more during games for 24 hours. The time is shorter than Featured Location but the spawn rate is higher, which means the effects will be impactful more often in matches throughout this duration.
The current season is called Savage Land and features Zabu as the new season pass card. Many tricky locations are being added to the game this season and players preparing for their debut will be able to use the event period to earn extra cubes.
Upcoming Featured Locations in Marvel Snap
Jan. 4 to Jan. 6: Eternity Range

Effect: "After turn 3, add a Rock to the losing player's side."

Jan. 11 to Jan. 13: Altar of Death

Effect: "When you play a card here, destroy it to get +2 Energy next turn."

Jan. 18 to Jan. 20: Rickety Bridge

Effect: "After each turn, if there is more than one card here, destroy them."

Jan. 25 to Jan. 27: Collapsed Mine

Effect: "Fill this location with Rocks. Skip a turn to destroy your rocks."

Feb. 1 to Feb. 3: Raid Castle

Effect: "Only cards that cost 6 can be played here."
Upcoming Hot Locations Marvel Snap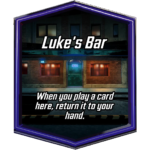 Jan. 8 to Jan. 9: Luke's Bar

Effect: "When you play a card here, return it to your hand."

Jan. 15 to Jan. 16: Savage Country

Effect: "Add two Raptors on each side of this location."

Jan. 22 to Jan. 23: Mojo World

Effect: "Whoever has more cards here gets +100 Power."

Jan. 29 to Jan. 30: Asgard

Effect: "After turn 4, whoever is winning here draws 2 cards."

Feb. 5 to Feb. 6: Onslaught's Citadel

Effect: "Ongoing effects here are doubled."