COLLEGE FOOTBALL FRENZY: Be thankful for 'The Game'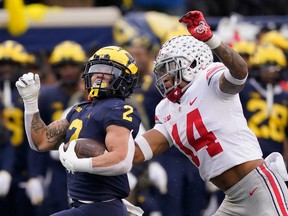 Article content
It's Turkey Time south of the border.
Article content
That means it's time to feast on NCAA football Friday and Saturday.
Article content
And, of course, the main course is 'The Game' — that annual rivalry between the Ohio State Buckeyes and the Michigan Wolverines.
You know, The Game that most years finally separates one from the other in the standings, decides which one will become the Big Ten champion and usually pushes the winner into the College Football Playoff.
Article content
This year is no different.
In fact, it's a meeting of the second- and third-ranked teams in the nation, making for quite the key battle in the run for the final four.
Now that's food for the eyeballs.
"It's an honor to be in this position and playing in this big game, playing for a championship," said Michigan head coach Jim Harbaugh. "I'm most thrilled that our guys are excited about the test, because we're going to be tested. It's gonna be our toughest test of the year.
Article content
"Find out what our limits are physically, mentally, spiritually … And I think you're going to find we're made of the right stuff, and I think you're going to see that."
What we're seeing is two 11-0 teams going head to head early Saturday at The Horseshoe in Columbus (noon ET, FOX) with — likely — only the winner seeing a chance to make the CFP. Since the loser won't be in the Big Ten championship contest and the CFP selection committee gives big weight to conference kings, it will likely get slotted behind other conference champs with one-loss records.
That puts even more pressure on the participants of The Game this year.
What's more is what happens if Michigan is without its Heisman Trophy candidate, running back Blake Corum due to injury?
Article content
That would appear to put the Wolverines at a massive disadvantage, given he's been a monster this season. Him and Hassan Haskins — now with the NFL's Tennessee Titans — were beasts for this feast last year.
But no matter, because Michigan still has plenty of motivation for a place at the final-four table.
So bring it on, and on this holiday, be thankful for what's considered one of — if not the best — of sporting rivalries.
SECOND DOWN
If you're No. 4 TCU (11-0), you're thankful for practice, which made last week's 29-28 win over Baylor possible after that mad scramble to get the field-goal crew on the field with 23 seconds left and no timeouts remaining. Head coach Sonny Dykes played it calm and cool post-game, saying his field-goal unit knew what it was doing due to working on it every Thursday. Kudos to Dykes and TCU, because the converted kick kept them perfect and still in line for the final four … If you're No. 5 USC (10-1), you're thankful for defying the odds, as it missed the memo about the Pac-12 eating itself every year and is in position to not only win the conference but turn head coach Lincoln Riley's rookie season there into a long-awaited final-four berth for the blue blood program … If you're No. 10 Tennessee (9-2), you probably don't have anything to be thankful for after last week's double doink. Rocky Top got smoked — out of nowhere — by South Carolina (5-6), losing both its shot at a spot in the CFP and its QB, Hendon Hooker, to a season-ending ACL injury. Ouch… And if you're No. 17 North Carolina (9-2), you're thankful for other teams losing, giving you a spot in the ACC final despite last week's ugly loss to Georgia Tech (5-6). UNC has backed into the conference championship against No. 8 Clemson (10-1).
Article content
THIRD DOWN
Speaking of which, next week's conference championship slate is kind of set, including the SEC title tilt between No. 1 Georgia (11-0) and No. 5 LSU (9-2). No matter what happens in that finale and barring a disaster against visiting Georgia Tech (5-6) this Saturday (noon ET), UGA is headed to the final four … TCU awaits a foe in the Big 12 finale … ​​USC awaits a foe in the Pac-12 final … UTSA (9-2) awaits a foe in Conference USA final … Fresno State (7-4) and Boise State (8-3) is the matchup in the Mountain West championship match … And the MAC final is set between Toledo (7-4) and Ohio (9-3), but Ohio QB Kurtis Rourke — the younger brother of BC Lions star QB Nathan Rourke — has been knocked out for the rest of the season with a knee injury.
Article content
FOURTH DOWN
Is Lane Kiffin off to save Auburn? The much sought-after head coach told his players of No. 20 Ole Miss (8-3) early this week that his only focus was on the Egg Bowl — the rivalry game against Mississippi State (7-4) on Thursday night. But what happens in the days — even hours — after that game wraps up the regular season for Ole Miss? Speculation is running rampant that he's already gone to Auburn … That post-game fracas in the tunnel of The Big House on Oct. 29 has brought on criminal charges. A handful of Michigan State players are being charged after two Michigan players were assaulted, with the incident being caught on video. Michigan's Gemon Green was hit with a helmet, which has led to Sparty defensive back Khary Crump being accused of felonious assault, and Big Blue's Ja'Den McBurrows was struck down to the ground and kicked, which has ended up in an assault and battery charge levied on Sparty defensive end Jcoby Windmon. Five other Michigan State players are also in legal hot water from the melee … Did we say mention how thankful we are for the American Thanksgiving weekend of football at hand? Yes, yes. Go gobble it down!
Article content
COLLEGE FOOTBALL PLAYOFF RANKINGS
Rank Team (last week) Record
1. Georgia (1) 11-0
2. Ohio State (2) 11-0
3. Michigan (3) 11-0
4. TCU (4) 11-0
5. LSU (6) 9-2
6. USC (7) 10-1
7. Alabama (8) 9-2
8. Clemson (9) 10-1
9. Oregon (12) 9-2
10. Tennessee (5) 9-2
11. Penn State (11) 9-2
12. Kansas State (15) 8-3
13. Washington (17) 9-2
14. Utah (10) 8-3
15. Notre Dame (18) 8-3
16. Florida State (19) 8-3
17. North Carolina (13) 9-2
18.UCLA (16) 8-3
19. Tulane (21) 9-2
20. Ole Miss (14) 8-3
21.Oregon State (23) 8-3
22.UCF (20) 8-3
23. Texas (NR) 7-4
24. Cincinnati (25) 9-2
25. Louisville (NR) 7-4
NR — not ranked
GAME TO WATCH
#3 MICHIGAN @ #2 OHIO STATE (-7.5)
Saturday, noon ET, in Columbus, Ohio, FOX
Article content
Even if Blake Corum plays, he won't be 100%, making Michigan bigger than a TD dog.
PICK: OHIO STATE
BEST BETS
FLORIDA @ #16 FLORIDA STATE (-9.5)
Friday, 7:30 p.m. ET, ABC
Sure, FSU's on the upswing, but FLA's still an SEC squad with plenty of upside.
PICK: FLORIDA
GEORGIA TECH @ GEORGIA (-35.5)
Saturday, noon ET
Massive spread for a rivalry, and it'll be tough for UGA to bury triple-option Tech.
PICK: GEORGIA TECH
(-1.5) #13 WASHINGTON @ WASHINGTON STATE
Saturday, 10:30 pm ET
Who's the Apple Cup of our eye this year? UDub with vengeance in mind from 2021.
PICK: WASHINGTON
LAST WEEK: 3-1
2022 RECORD: 29-23-1