DIY hack: Interior stylist reveals how she made her cute office side table using a lazy Susan from Kmart
Lazy Susans have become as popular for serving food as they have for organizing pantries and cupboards, but it's not often they become the hero of a piece of furniture.
Interior stylist Dina has shown us it's possible, and revealed just how well a lazy Susan works as a table top with her office side table project.
The DIY had made an appearance in her Instagram posts leading many followers to ask where she got the cute piece from.
READ MORE: DIYer saves hundreds on an expensive marble table with easy hack for a $20 Ikea table
Dina actually made it herself and shared the process in a tutorial video.
Watch the video above.
To make the side table, she used a lazy Susan from Kmart and the $129 park planter from Freedom. While Dina used the acacia lazy Susan, it doesn't appear to be sold by Kmart anymore but the $20 bamboo lazy Susan looks similar.
"This DIY side table, have to say it's one of my favorites in my home and so easy to do," she captioned the post.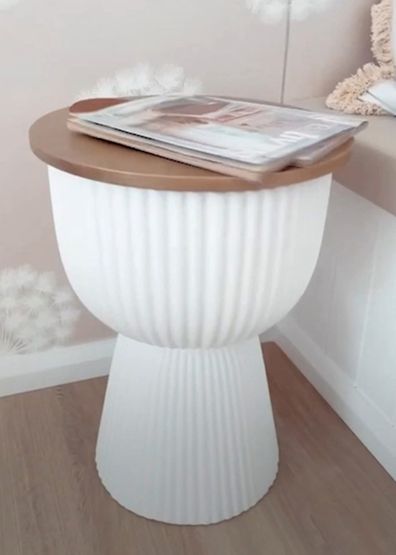 Dina started the project by sanding the top of the lazy Susan and then coating it with timber stain and varnish.
Once the stain was dry, she spray painted the lazy Susan gold and then applied another coat of varnish.
READ MORE: The average Aussie has 10 DIY jobs on their to-do list and many won't complete them, according to Bunnings research
The next part of the DIY is a little unexpected, but so clever, as it's what allows the lazy Susan to turn on top of the plant pot.
Dina used a plastic plant nursery pot and put gorilla glue around the top of the pot to secure it upside down in the planter. Plastic nursery pots can be purchased new and clean from a garden centre, or you can repurpose your own plant pots as long as they are washed, clean and dry.
She then added gorilla glue to the bottom of the planter (which is now facing up) and then attached the lazy Susan to it.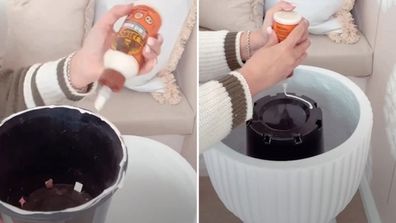 The finished side table looks stunning and makes a unique feature that suits a range of décor styles.
Dina's followers loved the project, which has so far been viewed 12,000 times.
"This is such a great idea!! I love it," one said.
"Looks so perfect in your office," commented a follower.
"Wow, I've been looking for something like this," one wrote.
"So inspiring! You make it look so easy!" said another.
READ MORE: The not-so-secret coupons that will save you thousands on Amazon
This side table is similar to another Dina made by taking the top of the $19 Scandi side table from Kmart and attaching it to another parc planter from Freedom with gorilla glue. Before joining the two pieces together, she added a plaster effect using Gyprock multi purpose compound.
For a daily dose of 9Honey, subscribe to our newsletter here.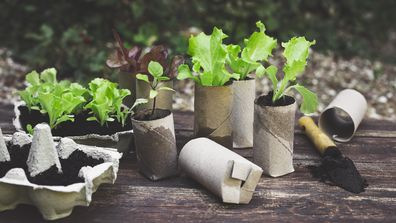 Items you can reuse for cleaning, organizing, and gardening