How Pomerleau is shaping the future of construction with technology
Article content
Technological advancements and breakthroughs enable entire industries to become more innovative. Companies can leverage the capabilities of new solutions to streamline their operations with more efficient and more effective workflows.
Article content
In the construction industry, new advancements have transformed how projects are executed. Today, companies can use technology to make an entire construction site run in a more safe, effective, and cost-efficient manner.
Article content
One of the purposes of 3D modeling in the construction sector is to improve collaboration between the different stakeholders of the project. A fully rendered 3D model illustrates the complete design of the building. Each of the stakeholders can then work backwards when mapping out the construction process and coordinate with each other to build an execution roadmap.
"The 3D models are meant to ensure there will be no issues or clashes between two different elements that need to be installed," says Bartzis. "The clash detection process is an easy way to do a quality check and to evaluate the constructability of a construction project."
Drones and robotics
Innovation specialists are specific job titles in the construction industry, and some of these specialists pilot drones to provide real-time site evaluations of current construction projects. The drones provide a birds-eye view of how the site develops from day to day, allowing stakeholders to compare the progress with the 3D model renderings of the complete design. This allows stakeholders to evaluate progress and make decisions about the upcoming phases of the project to keep the development on time and on budget.
Article content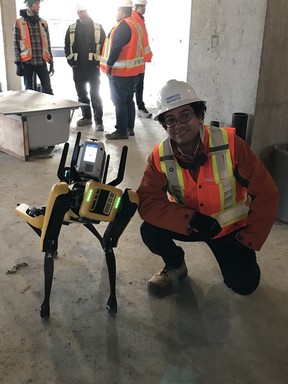 Drones are one example of how Business Intelligence and AI are modernizing construction. The drones can calculate exactly how much soil is being removed or added into a construction site. Sensors can bonify this information and quantify the water, temperature, heat, humidity, dust, and other elements that impact the site. The two technologies together can help you understand the true environment of the construction site and how that environment might change from month to month.
Similar to the drones, which provide overhead renderings of a development, AI-powered robots provide an on-the-ground transparent view of the construction site. Using robots to conduct site reviews is considered a safer process than in-person inspections, though implementing this technology in its full capacity, according to Bartzis, is still in a preliminary stage.
Article content
"We do want to validate how robotic technology can be introduced to the construction process," says Bartzis. "If not today, it can be introduced in two, three, or five years down the road. If we're going to test something out, we hope to learn fast, and then use those learnings to develop our next generation of ideas."
Business intelligence and data management
With a project as large as constructing a new building, there's understandably plenty of data involved in the process. Traditionally, that data hasn't been structured very well, which is why Business Intelligence solutions are being implemented throughout the construction sector.
Machines require clean data to interpret those findings and present actionable analytics to construction project managers. BI solutions that capture, organize, and structure data simplify the analysis, granting stakeholders the information they need to verify progress is proceeding as planned, or if the project is veering off course.
Article content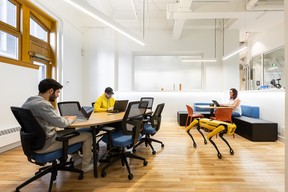 According to Bartzis, Pomerleau intends to digitize most of their construction processes to improve operations. BI solutions will structure construction workflows into detailed measurable processes that will hold all stakeholders accountable.
"We're digitizing our process using the CORTEX Initiative, our homemade BI solution, which was an idea that was presented to our research and development teams," says Bartzis. "We want to evaluate how we can digitize our project evaluation process at 0-10-50-80-100 per cent intervals of a construction project. If there are warning flags at any stage of the project, we address them and correct them so that the construction gets back on track."
visit pomerleau.ca to learn more about their innovative approach to construction.
This story was created by Content WorksPostmedia's commercial content division, on behalf of Pomerleau.