NOOE Desk Set review – Upgrade Your office space!
We use affiliate links. If you buy something through the links on this page, we may earn a commission at no cost to you. Learn more.
REVIEW – Treat yourself to a desk upgrade! NOOE is a Scandinavian design shop that builds beautiful, sustainable, and functional pieces made to upgrade your workspace. I've got their 5-piece desk set for testing, and every piece is a unique little work of art. To the review!
What's it?
The NOOE Desk Set is a high-end set of designer accessories intended to organize your workspace (and to add a bit of style).
What's in the box?
I have the complete 5 piece desk set (known as "CONFIG-01" on the web site) which includes:
The wire/cable manager
The phone booth
The laptop booth

The suede desk rug

The desk organiser
Hardware specs
All components are build from solid walnut, aluminum, and/or vegan suede depending on the piece.
The wire manager is 6.3″ by 2″ by 2″
The laptop stand is 23.7″ by 9.5″ by 4.8″
The phone stand is 4.5″ by 2.6″ by 2.6″
The suede desk back is 27″ by13″
The desk organizer is 9″ by 6″ by 0.75″
Design and features
NOOE (an acronym for "Never Odd Or Even") is a Scandinavian design firm that's focus is on sustainable, modern, functional design. The 5-Piece Desk Set I'm reviewing is one of their first products, and it's gorgeous. KEEP!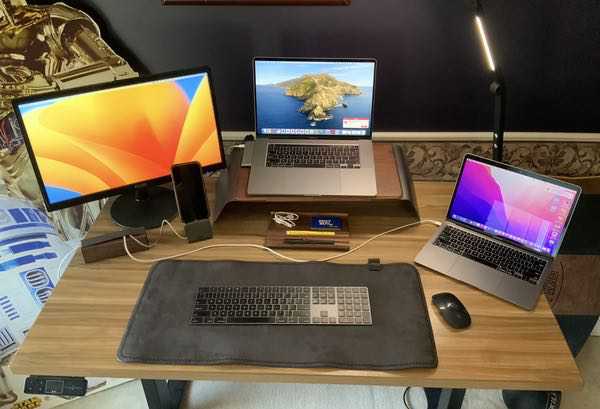 Each piece is designed to fill a specific function in your desk setup, but the components also work together as a coherent whole. There are only three materials used in the build of each component: solid walnut, vegan suede, and/or finished aluminum.
Our tour begins with the desk rug, which is made from that vegan suede. The hand feel on the fabric is velvety and amazing. They call it "premium vegan suede." My head tells me it's synthetic, but I truly didn't notice the difference between this and the real thing.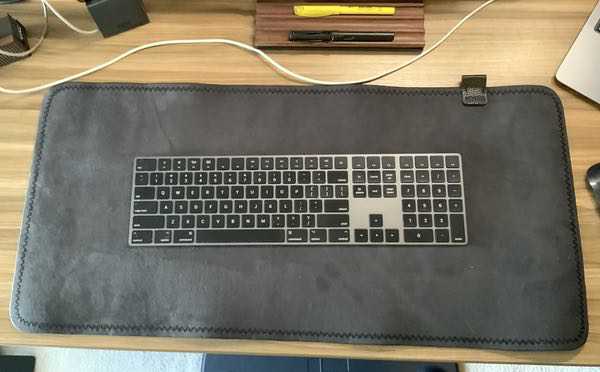 Here's a close-up shot of the pullup and stitching detail. It's lovely. The only issue I had with this piece is that, despite NOOE stating that it works well with optical mice, my Apple Magic Mouse was not a fan and had trouble maintaining consistently on the surface. That could be my mouse, though. It's getting quite old.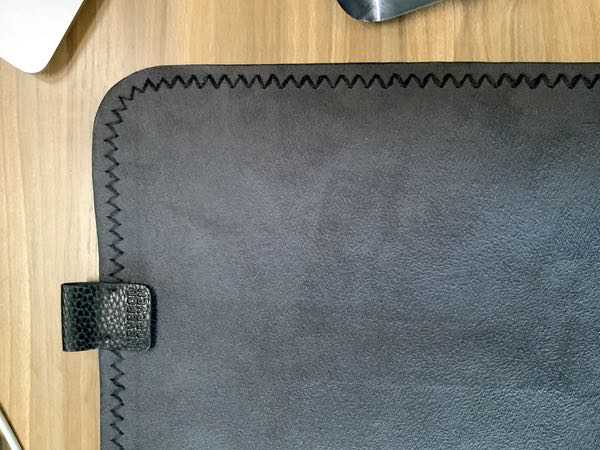 The next piece is something NOOE calls a "Wire Governor." It's essentially a solid block of walnut that's designed to corral all of those charging cables on your desktop. Check out the detail in the front face of the piece: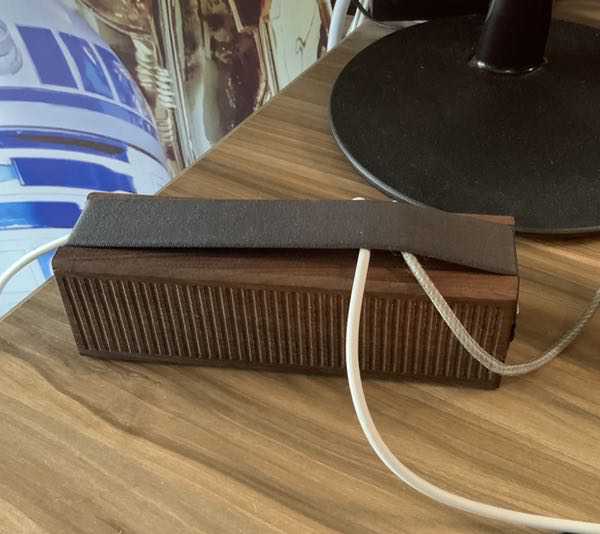 The clever bit shows up when you turn the Wire Governor around. Those L-shaped tabs provide a hook around which you can wrap your cables, then you slide them under the band that wraps the device. This gadget can be flipped if that works for you, depending on your setup so that the tabs face upwards.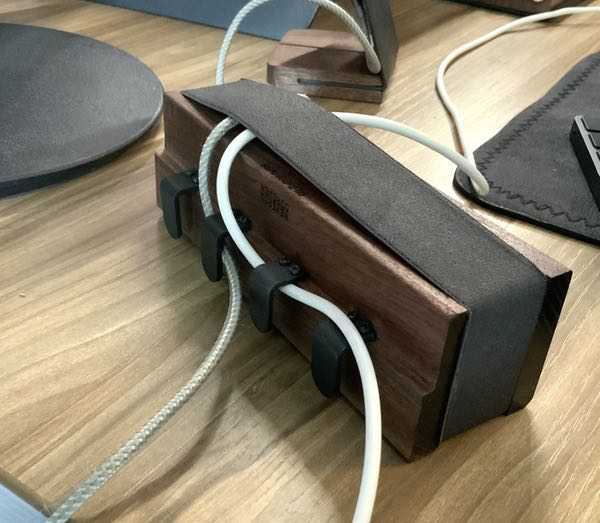 Next is the mobile stand, which incorporates walnut and aluminum materials. I love the elegant and simple look of this piece.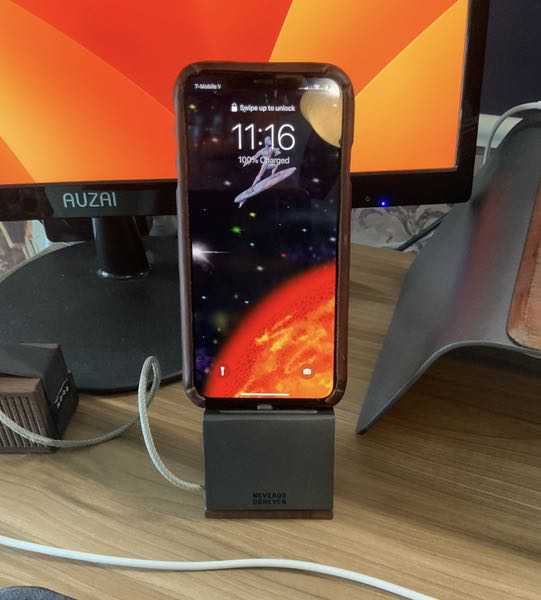 Peeking around the back shows the simplicity of the design. It's a wood base with an aluminum cradle. Simple, stable, and effective.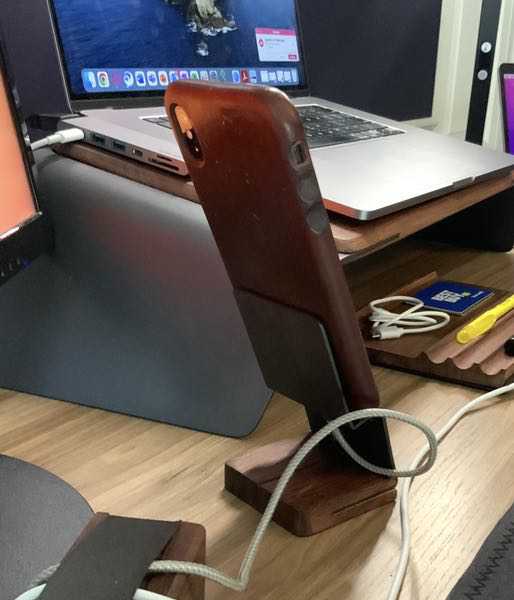 Your lightning cable pops up through a hole cut in the base to plug into your phone.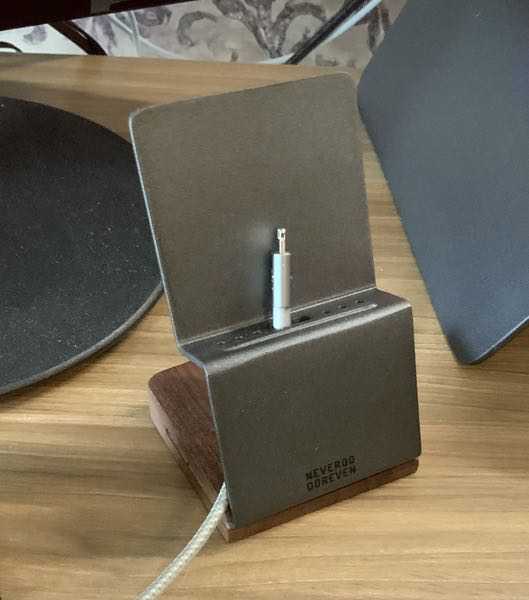 Next up is the Organizer Tray. Again we have a solid piece of walnut with an aluminum base. You've got three grooved spaces for pens, pencils and such and wide space for other items. The piece carries on the understated elegance theme.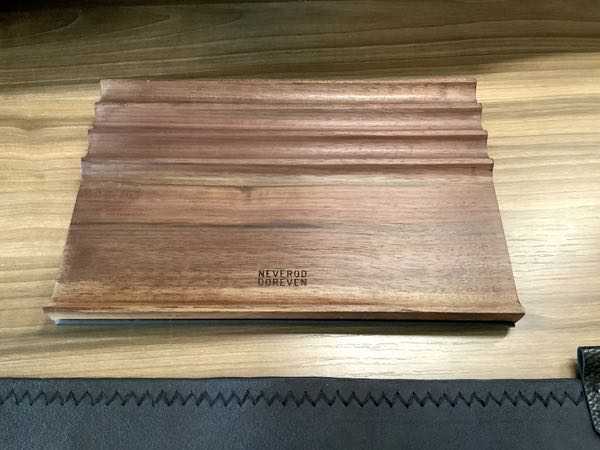 I keep this piece under the laptop stand where it corrals my pens and stylus. An assortment of things go in the wider part of the tray depending on the activities of the day.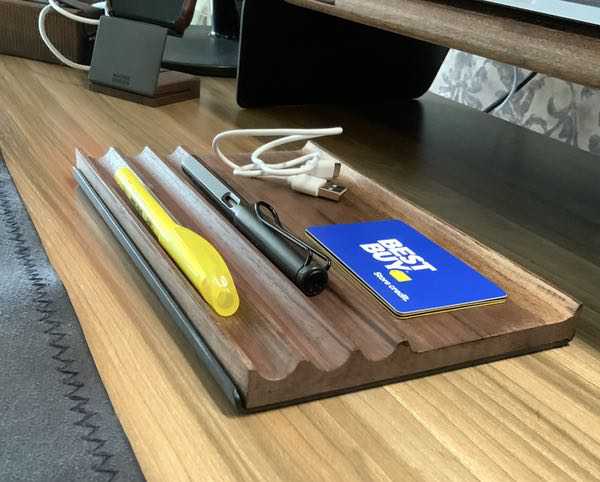 Finally, we have the centerpiece of the set in the Anywhere Laptop Stand. This big boy is made from Walnut and that "space age" aluminum. Check out the detail in the beveling on the wood pieces. Every detail is elegant and refined, down to the shape of the aluminum side pieces.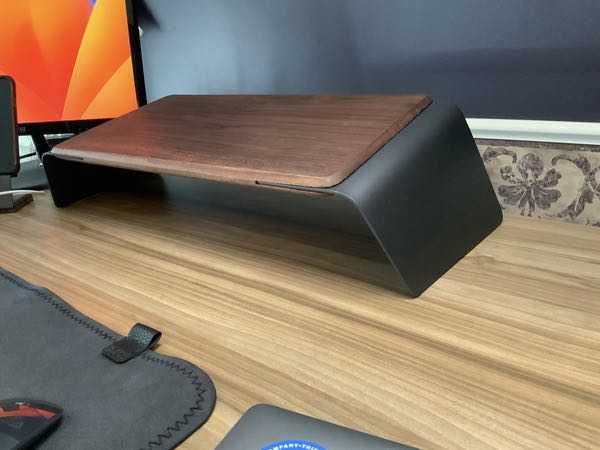 A neat little bonus here is finding that each piece also has a unique serial number.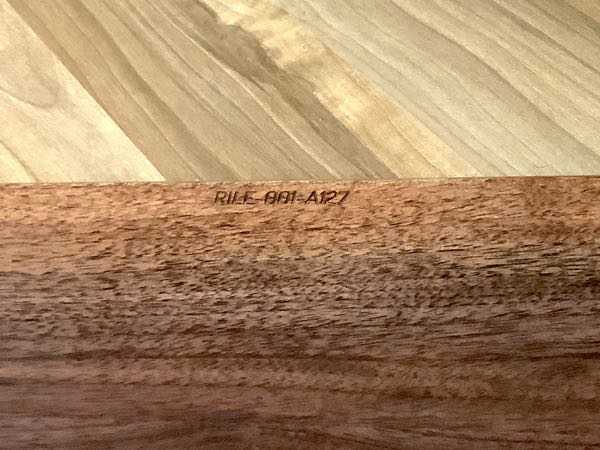 The Anywhere Laptop Stand is designed with a slight angle that you can see in this shot. The front of the stand sits at roughly 4.5″ while the back side is 6″. This provides a gentle slope that makes typing more comfortable if you're using this at a standing desk, for example. The overall height puts the laptop screen at a comfortable eye level if you're pairing it with a keyboard and mouse as I do. That's a 16″ MacBook Pro for reference. Note that there is plenty of room for a larger device there!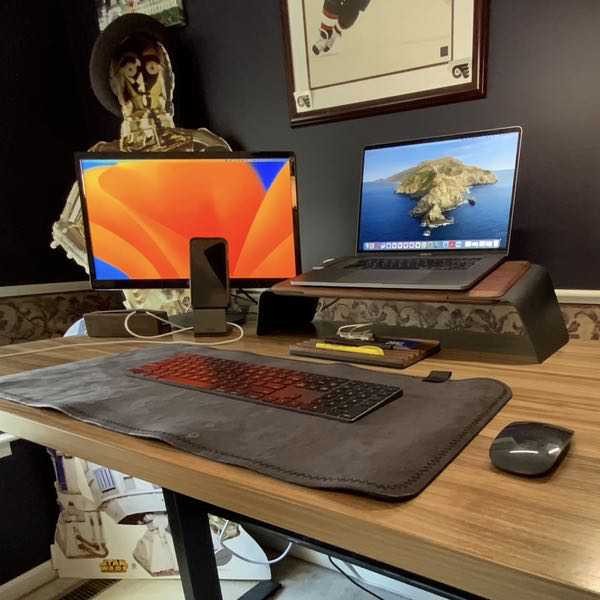 performance
The designer in me fell in love with the NOOE Desk Set as soon as I opened the box, but it's the overall usability that has made these components a permanent part of my desk setup.
If you're a fan of elegant mixed-material design you're going to love these pieces. The premium walnut has great character that's allowed to show through in each piece, and it contrasts nicely with the finished aluminum that has a blackened lightly pebbled texture. Couple that with the thick vegan suede and you have a set that both looks fantastic and has some really interesting (albeit subtle) detail work that adds to the personality.
Usability across the board is simple, direct, and effective. Here are some of my notes on the individual pieces:
I particularly like the Anywhere Laptop Stand's wide platform and solid base for larger laptops.
I like the simplicity of the Organizer Tray, but it's going to be hit or miss item depending on your need sand functional style.
The Desk Rug is lovely despite the issues with my old mouse. I particularly love that it's a bit padded and provides a nice resting spot for my palms when typing.
The Wire Governor is very clever, and solves the problem of wayward cables in a particularly interesting way. I should note that thicker cables (like USB-C) are trickier to wrap around those L tabs. I do love that it keeps my cables locked in. I have a motorized standing desk, so keeping thos cables from getting caught on a leg is a big deal.
The Mobile Stand works exactly as designed. No issues to report here, and it's wuite stable when you're whacking the screen with your fingers. I think there could be an opportunity here to provide a wireless Qi pad that would make it even better.
What I like
Beautifully crafted pieces
Elegant design
Excellent usability
What I'd change
Would love to see a wireless charging option on the phone stand
final thoughts
The NOOE Desk Set is a great example of an elegant, functional design. There's a lot to appreciate in the quality of the products and the little details in the fit and finish of every piece. It's absolutely a luxury buy at this price point, however, so you'll have to decide if it's worth the investment. The good news is that the timeless design and simple functional style will far outlast the current tech on your desktop.
Price: $395.00 (some pieces can also be bought separately)
Where to buy: nooe.co!
Source: The sample of this product was provided by NOOE.