Stefanson's PCs need a Plan B to prevent hard left turn in Manitoba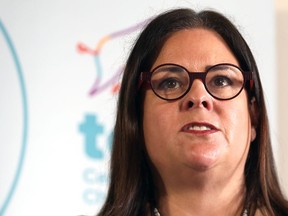 Article content
Too bad for Manitobans that only two parties have a real chance to govern after the next provincial election. Neither of them, the PC and NDP, have shown the openness and courage that Manitoba needs. Manitoba's economy is faltering in comparison to the other two prairie provinces and could easily slip into recession.
Article content
The NDP deserve at least another decade as the opposition. It closed out its time in power with Greg Selinger — a leader who drove the best of its legislative crew out the door, even before the election that brought Pallister and the PCs into power. As to that, the PCs now in power without Pallister, continue to show how not to lead Manitoba. (As for the Liberal party of Manitoba, led by an intelligent but plodding left-leaning leader, it has yet to show an ability to offer anything new to challenge either the PCs or the NDP.)
Article content
Brian Pallister left politics after annoying not only much of the electorate but those in his own party. Now, ahead of an expected provincial election in 2023, the Stefanson government's strategy gamble showers the electorate with new and expanded programs — pleasing to those receiving the "goodies" but doing nothing to confront policy challenges and a pressing need for a new vision to strengthen the Manitoba economy.
Article content
In Stefanson's baskets of "goodies" are a sharp union-friendly upping of Manitoba's minimum wage (from less than $12 to $15 per hour), and a promise to spend $200 million (annually) on "improving" Manitoba's health system. The steep increases in the minimum wage, coming "out of the blue," while appreciated by workers affected, will affect businesses that will cut back workers and up the costs of their services. A smarter approach would be to simply raise the threshold where Manitoba starts collecting income tax — a tax cut, that puts more money in the pocket for those on the bottom. Manitoba starts taxing folks at $10,145 compared to $19,369 in Alberta.
Throwing another $200 million into the province's health budget is not a real answer. Real health reform involves copying the best single-payer systems in Europe, ending global budgeting in hospitals and allowing private sector competition to supply the most consumer-friendly patient services. These would be heavy-lifting reforms, which to be fair, no government in Canada has done yet.
Article content
The Stefanson government's pattern of stalling on substantive reforms (ie reversing education and university governance reforms), protecting Hydro's mistakes and MPIC's position by defanging the Public Utilities Board's ability to hold hearings and regulating rates, combined with higher minimum wages and pushing more money for ever -failing health and education systems, reinforces the NDP status quo — empowering the Wab Kinew NDP.
And, this isn't Gary Doer's or Ed Schreyer's NDP. It is hard woke and heavily into race, identity and climate change politics. It has a leadership that has lived mostly in a privileged public sector bubble with little understanding of how the real economy works. This is not the party of the working class anymore, it's now the party of the Leap Manifesto/stopping growth (climate justice), tearing down history (statues), and lockdowns. In the end, it would raise taxes, enlarge government and suffocate the private economy.
This will be Manitoba's fate unless there is a Plan B from Stefanson, which would be a thoughtful plan to appeal to the unwoke hard-working majority who want governments that work for them, not the other way around.
— Graham Lane, a retired CPA CA, was PUB's Chair (2004-12) following a career as an executive in the public and private sectors.