Teenagers, man charged after Nowra man allegedly murdered over $30 and mobile phone
Police have described the alleged stabbing murder of man on the New South Wales South Coast as "violent, senseless and cowardly".
key points:
Three people have been charged with murder over the alleged stabbing death of man at Nowra in January last year
Police allege Michael Kerr, 51, was stabbed while being robbed of $30 and a mobile phone
Two teenagers and a 22-year-old man have been refused bail
Three people, a 22-year-old man and two 17-year-old boys, have been charged with murder over the death of Michael Kerr.
The teenagers were arrested at Penrith on Tuesday while the older man was arrested following a search of a home at Warilla on Wednesday morning.
Police allege the 51-year-old died while he was being robbed by the trio for of a small amount of cash and a phone, in January last year.
"These three people had attempted to rob a service station but for whatever reason they were deterred," Detective Superintendent Danny Doherty from the State Crime Command's Homicide Squad said.
Superintendent Doherty described the alleged stabbing as "an opportunistic crime" and said Mr Kerr, who was in the area after visiting his girlfriend at the hospital nearby, was robbed "of just $30 and a mobile phone".
'Don't think he stood a chance'
Superintendent Doherty said police believe Mr Kerr had attempted to defend himself but was allegedly outnumbered.
"We do believe he attempted to fight back," he said.
"We don't think he stood a chance, he was a 51-year-old man who just happened to be in the area at the wrong time.
"It was a cowardly act, it's a violent act, it was a senseless act."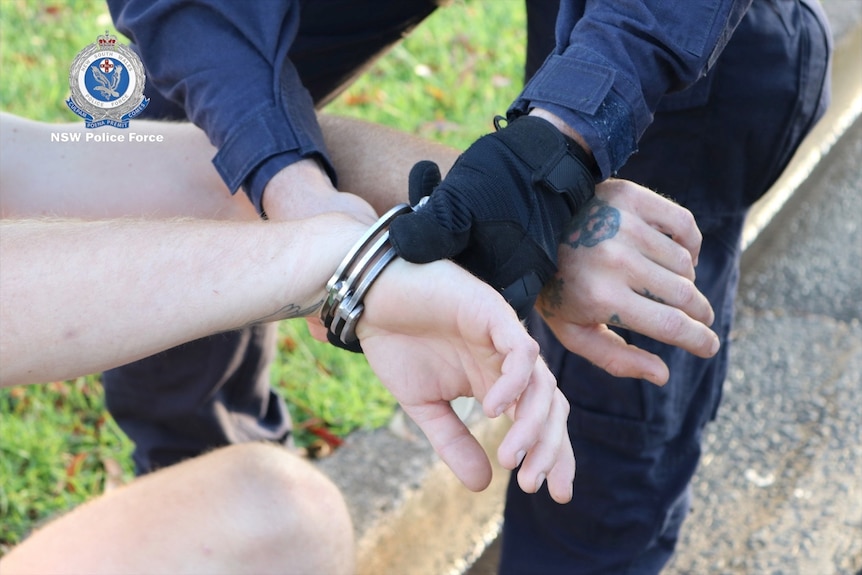 Family grateful
Superintendent Doherty said Mr Kerr's family were relieved after being notified of the arrests following the year-long investigation.
"It's been an upsetting 12 months for them and they've been grieving over this time," he said.
"There's a long way ahead for them but they're grateful for police and the work that they've done.
"I'm also very proud of the work of strike force investigators as well."
All three accused have been charged with with murder, aggravated robbery with wounding/grievous bodily harm, attempt robbery in company, and drive conveyance taken without consent of owner.
The teenagers were refused bail and are due to appear before the Children's Court in March.
The 22-year-old man was refused bail when his case was mentioned today and is due to appear in Wollongong Local Court on Friday.
.