The Block 2022 promo: Scott Cam disqualifies one couple during Living and Dining Week Room Reveals
There's never a dull moment on The Block and, at times, it can be rough for the contestants.
But Sunday night is teasing some huge drama and it won't be coming from the judges' feedback for the Living and Dining spaces the teams are revealing.
"On the biggest night of reveals… a major shock," the voiceover teases.
Stream the latest episodes of The Block for free on 9Now.
In a teaser for Sunday night's episode – which you can watch in the video above – Scott Cam means business and calls out one team.
"At times, The Block can be brutal," Scotty tells the group at Block HQ. 
There's clearly tension in the air as the teams start to wonder what is going on.
"The situation we've got here… you can't expect me to let that slide," he continues.
"I haven't seen the scores yet, so regardless of whether you win tonight… I will disqualify you."
The camera pans around to the reactions from the contestants, who all seem shocked and unsure about what's going on.
EPISODE 28 RECAP: Teams scramble to complete the biggest rooms ever and Darren Palmer pays one couple a surprise visit
As the teams react to what's going on, it becomes obvious Scotty is talking to one team in particular, although it's not clear who.
"Put your hand up anybody here that thinks I'm being unfair," the host continues.

As the teams stand in their line, no one puts a hand up.
"And this sets Blockhead against Blockhead," the voiceover says.
READ MORE: Scott Cam reveals Australia's first ever complete 3D-printed house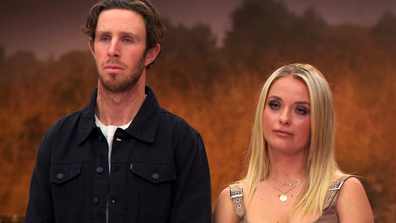 Huffs and sighs from the Blockheads echo around HQ, but no one is owning up to whatever is going on just yet.
Scotty is really unhappy with whatever has gone on and lays down the law.
"Unanimous decision, I'm disqualifying you," he says.
Which team will be disqualified? Only time will tell.
Tune into The Block at 7.00pm on Sunday night for what will no doubt be a mammoth night of television.
In Pictures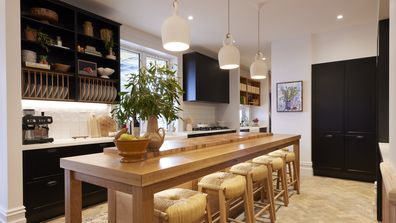 Scotty's house renovation so far
Bedrooms, bathrooms and more revealed.
View Gallery
The Block airs Sunday at 7.00pm and Monday to Wednesday at 7.30pm on Channel 9. Catch up on all the latest episodes on 9Now.